Steenberg Golf Club
Steenberg Golf Club

The Steenberg Golf Club is an exclusive club situated in the beauty of the Constaniaberg Mountains and was designed by the infamous Peter Matkovich. The course has been designed strategically, with natural features making this course exciting and challenging. The course itself is rated as one of the top three courses in South Africa with beautifully manicured greens and well maintained fairways.

Come and enjoy the luxury of the five star hotel and the breathtaking experience of this 18 hole course with scenic views from every hole. The Steenberg Golf Course is open to the public but priority is given to members and visitors of the hotel.

The Club is approximately 20 minutes away from Cape Town city centre which makes it convenient for visitors and locals.
Accommodation Near Steenberg Golf Club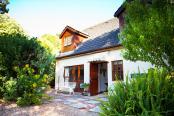 Sleeps: 10 in 2 units/rooms
1.4km South West of Steenberg Golf Club
Littlewood and Garden Cottage. Set in lush parkland bordering Tokai Forest reserve and almost adjacent to Steenberg Wine and Golf Estate. The cottage sleeps up to six people and the acommodation comprises a large luxurious air-conditioned master...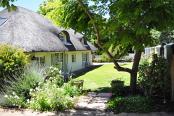 1.4km South West of Steenberg Golf Club
Mountain View Holiday Cottage situated in Zwaanswyk, Cape Town, Western Cape - Self catering family unit, sleeps two to four, open plan, double storey.
1.6km South West of Steenberg Golf Club
Plotsklaps offers home from home comfort for family living, providing all your conveniences to make life easy and simple. The guest accommodation is laid out over 2 levels, comprising of, 2 bedrooms, both en-suite, a fully fitted and equipped ...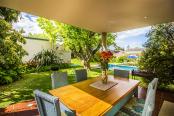 1.6km North of Steenberg Golf Club
Set in the heart of the Constantia Valley, in Cape Town's most prestigious leafy suburb, within walking distance of Constantia Uitsig and surrounded by the mountains of the Peninsula, lies Constantia Villa, an immaculate, north facing, sun filled...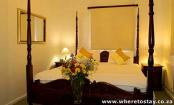 1.8km North of Steenberg Golf Club
Uniquely situated in the Cape Peninsula,Constantia Valley, amidst vineyards and elegant estates, Biancalba Guest House is renowned for traditional Italian hospitality, cuisine and "la gioia di vita". We can accommodate 12 persons.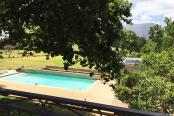 Sleeps: 7 in 2 units/rooms
2.6km North West of Steenberg Golf Club
Situated in the heart of rural Constantia are these 2 spectacular 1st floor apartments. There is a large balcony looking out over the expansive garden with spectacular mountain views.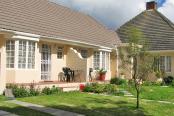 2.8km North East of Steenberg Golf Club
Two self-catering units in a quiet cottage garden. Very conveniently situated in the suburb of Bergvliet. Ideal for exploration of the Cape Peninsular.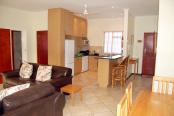 Sleeps: 51 in 13 units/rooms
3.1km North East of Steenberg Golf Club
Various sized and priced self catering garden suites and 2/3/4 bed houses.20 minutes from Cape Town. From R 570/night/unit. Private entrance and patios. Secure off street parking,free Internet, Laundry, Pool, Dstv. Can sleep up to 30 persons.
3.4km North of Steenberg Golf Club
Constantia Thatch Lodge offers self-catering accommodation for 10 guests in 2 cottages and 2 private suites. Private entrance and patios. Pool, secure parking, safe and tranquil setting. 20mins from Cape Town.
Sleeps: 8 in 3 units/rooms
4.1km North of Steenberg Golf Club
The accommodation consists of one self-catering cottage with 2 bedrooms. The main bedroom has a queen size bed & dressing table with an en-suite bathroom. The second bedroom has twin beds, which can be replaced with a double bed. The en-suite ...