Boyden Observatory
Boyden Observatory
The Observatory has been open in South Africa, Bloemfontein since 1927. It is open to groups and school tours by appointment only. The Science Centre is a very exciting and informative centre for everyone. Here they have so much to enjoy and experience first hand. There is a solar telescope and many other telescopes to see and look through. There is a library with many books that are part of the historic heritage.
You will fall in love with the skies and learn so much from watching satellites, counting meteors and enjoying astrophotography.

One of the most popular experiences is the Educational Program where you will get to see some of the most spectacular views at the open sky show. The Observatory is growing continuously and one of the latest installments is the Robotic Telescope. Don't miss this experience while visiting in Bloemfontein, South Africa.
Accommodation Near Boyden Observatory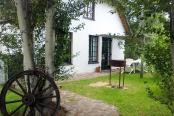 Sleeps: 16 in 5 units/rooms
10.1km North West of Boyden Observatory
Plover Cottage offers the ideal stopover for the weary traveler. Come relax in the beautiful countryside of 'big sky country' and breath the fresh air of the Orange Free State. Make your overnight stop part of your holiday. Plover Cottage caters ...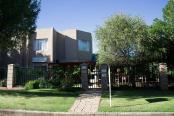 Sleeps: 152 in 7 units/rooms
17.2km South West of Boyden Observatory
Lily Guesthouse in the northern suburbs of Bloemfontein is easily accessible from the N1, yet situated in tranquil surroundings. We take pride in our true hospitality and excellent personal service.
Sleeps: 12 in 6 units/rooms
17.6km South West of Boyden Observatory
Franklin View is an up market Guesthouse situated on the Northern slopes of Naval Hill (The highest house on the Northern slopes) with a magnificent view over the suburb of Waverley with its beautiful trees of purple, orange and green during da...
Sleeps: 32 in 4 units/rooms
17.6km South West of Boyden Observatory
De Witt'e Gastehuis is a stately, thatched guest house, situated in a quiet area in the Northern part of Bloemfontein. It offers tranquil, quality accommodation with its stylish rooms and a swimming pool for those hot summer days.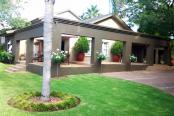 Sleeps: 29 in 13 units/rooms
17.7km South West of Boyden Observatory
Its 10 en-suite bedrooms are all air-conditioned and stylishly furnished to accommodate tourists and businessmen alike. Here you can relax at the lapa next to the pool, you can play a game of snooker in the rustic bar, you can swim or just sit ...
Sleeps: 14 in 7 units/rooms
17.7km South West of Boyden Observatory
Allegro Guest House offers guests beautiful rooms in the suburb of Bayswater in Bloemfontein.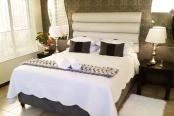 17.8km South West of Boyden Observatory
La Dolce Vita is an exclusive Self-catering unit with its own entrance. Situated in the quiet suburb of Waverley, Bloemfontein. We offer a double room (Queen size bed) with en-suite shower and separate toilet. A sleeper may be added for a child...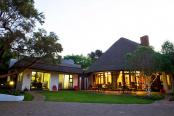 18.2km South West of Boyden Observatory
This homely thatched residence with separate thatched cottage boasts a manicured sub-tropical garden and views of Naval Hill. Cherry Tree cottage's accommodation comprises 3 Garden rooms and 2 cottage rooms.
Sleeps: 36 in 13 units/rooms
19.5km South West of Boyden Observatory
Belmont is a luxury 4 Star guesthouse situated in a well established residential area just north of the city centre with easy access from all main routes. The guesthouse has thritenn stylishly furnished en-suite bedrooms, providing excellent ....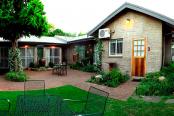 Sleeps: 20 in 5 units/rooms
19.6km South West of Boyden Observatory
Dias Guest House is situated in a safe and tranquil neighbourhood. Offering spacious, en suite family rooms, each with garden entrance. Rhyno and Mariette provide a memorable stay for families, tourists, business people and sports teams....