Fancourt Golf Estate

Fancourt Golf Estate is a well known holiday destination that started off as a family home and has developed, through many trials and tribulations, into a national monument. It lies at the foot of the majestic Outeniqua Mountains and if tranquillity is what you are looking for, then this is the holiday destination for you.

There are three different courses on Fancourt Golf Estate, The Links, The Outeniqua, and the Montagu, the last two having developed into two of the finest 18 hole parkland layouts in the country. The Links course has hosted a number of memorable competitions, in 2003 Tiger Woods and Ernie-Els tied after a dramatic play-off, in 2005 it hosted the Womans World Cup of Golf as well as the SAA Open. The courses on this estate were designed by the famous South African golfing champion, Gary Player. The spectacular mountain views are breathtaking and the courses well manicured.

Fancourt also offers a luxurious and relaxing spa with loads of pampering and therapeutic treatments.

Note that Playing on these courses is restricted to Fancourt members, members guests, invited guests and guests booked in at the Fancourt Hotel.
Accommodation Near Fancourt Golf Estate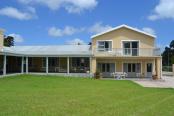 Sleeps: 10 in 5 units/rooms
2.8km North East of Fancourt Golf Estate
Situated in the spectacular Garden Route of South Africa, Burrough Place is a Guesthouse that is on the main road when entering George from the Outeniqua Pass (N9) side. Loved equally by all the business travellers, golf enthusiasts, cyclists and tourists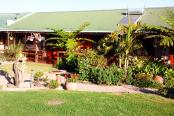 Sleeps: 48 in 13 units/rooms
2.8km South West of Fancourt Golf Estate
African Sun offers a relaxing atmosphere and a beautiful view of the Outeniqua mountains, it is a small holding where guests can walk through the rose garden or sit out in the rose garden under an umbrella and read while you are served with a cup of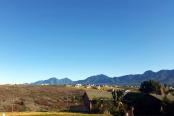 3.2km East of Fancourt Golf Estate
Green Pastures B&B is a very peaceful 3-star guest house 10 minutes away from George Airport, and 4km from George town. The guesthouse overlooks the Kingswood Golf course and the Outeniqua mountains. You can enjoy beautiful sunsets from our luxury room as
3.7km East of Fancourt Golf Estate
Bonzai House in George is a modern Cape Dutch style house and can sleep 8 people. The house has lovely views of the Outeniqua mountain.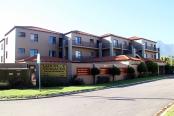 Sleeps: 8 in 2 units/rooms
4.0km East of Fancourt Golf Estate
Lancelot SA is an upmarket and welcoming Self Catering Apartment, situated very centrally in George on the slopes of the Outeniqua Mountains. It provides a convenient base to explore the beautiful Garden Route for leisure or business.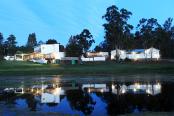 4.4km South West of Fancourt Golf Estate
A beautiful farm guesthouse overlooking the Outeniqua Mountains in the middle of the Garden Route. We can accommodate up to 40 people on a sharing basis, where you can select one of the following 9 rooms/cottages to suit your requirements...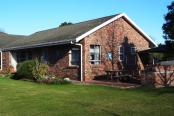 4.6km North East of Fancourt Golf Estate
We offer you private accommodation in an upmarket tranquil suburb of George. Ideally suited for a family, or the guest who seeks peace and quiet. Accommodation is large, modern and, comfortable.
Sleeps: 26 in 11 units/rooms
4.9km North East of Fancourt Golf Estate
Die Waenhuis Guest House is in the elegant Caledon Street within walking distance of the business center of George and some outstanding restaurants. Ideal for business people and tourists visiting the garden route.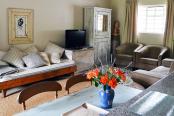 5.0km North East of Fancourt Golf Estate
Lollypop is a delightful self catering cottage situated in the heart of the Garden Route town of George It is a cottage situated in a huge lush garden, free standing from the main colonial style house It is tucked away in a tree-lined suburb...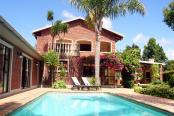 Sleeps: 12 in 5 units/rooms
5.0km North East of Fancourt Golf Estate
Our non-smoking double bedrooms are beautifully decorated and comfortable. Each has its own en-suite bathroom and private entrance. The rooms are equipped with their own tea and coffee facilities, a television, desk, hairdryer, fan and heaters...