The SS Skhosana Nature Reserve
The SS Skhosana Nature Reserve, situated approximately seventy kilometers north of Bronkhorstspruit in Mpumalanga, covers an area of roughly one thousand eight hundred (1,800) hectares, consisting mainly of granite outcrops, and plains displaying excellent examples of savannah vegetation. The reserve is located in the former KwaNdebele homelands, and lies within easy reach of Johannesburg or Pretoria to the south-west, and Middelburg or Witbank to the south-east.

The reserve displays an abundance of antelope species which include Wildebeest, which were re-introduced into the region, as well as Burchell's Zebra , Kudu, Bushbuck and Grey Duiker, which prefer to inhabit the slightly more dense woodland areas around hills and along streams. Predators to be found in the SS Skhosana Nature Reserve include Leopard and hyena, though both are noctunal species, and day sightings prove to be rare. Less elusive are the Chachma Baboons, whose troop dominate the rocky outcrops in the reserve, often making themselves heard, providing each other with an effective warning system at the sight of any danger. The SS Skhosana Nature Reserve is also home to a large variety of bushveld bird species, which include Freckelled Nightjar, Spotted Eagle Owl, Mocking Chat, Rock Bunting, and African Hawk Eagle, of which a pair are often seen near the entrance to the reserve.

The three-day Tjhetjhisa Hiking Trail which runs through the reserve can accommodate two groups of up to eight people, traveling in opposite directions. Beginning from the northern corner, the trail runs a course of seventeen kilometres, and provides basic overnight facilities at two overnight huts. More detailed information on the trail and facilities is available on request.
Accommodation Near The SS Skhosana Nature Reserve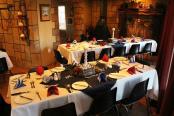 21.1km East of The SS Skhosana Nature Reserve
Guinea Feather Country Lodge & Restaurant offers the weary traveler the opportunity to relax in the serenity of a Bushveld farm. Whether staying overnight in one of our Suites, dining in our intimate Restaurant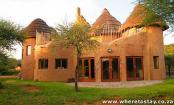 26.1km North of The SS Skhosana Nature Reserve
Kwê Kwê is a 135 ha private game farm, 200 km north-east of Johannesburg. We offer two self-catering lodges, 300 and 800 meters apart from each other. Each lodge is different and has its own atmosphere. We are wheelchair friendly...
Sleeps: 20 in 10 units/rooms
From R 2 275,00
Per person, per night sharing.
45.3km North West of The SS Skhosana Nature Reserve
Zwahili is situated approximately 2 hours North of Johannesburg at the foot of the Waterberg in the Springbok flats. A malaria free area. Luxury and tented accommodation.
Nearby Points Of Interest