Itala Game Reserve
Itala is one of South Africa's oldest game reserves and also one of it's best. The landscape varies greatly from the thornveld of the Ngotshe Mountains, through lowveld grasslands down to the dense vegetation of the gorges and river valleys found nearly 1,000m below.

This variety of habitat provides a natural home to a wide selection of both plant and animal that make this reserve so popular. Over 300 species of birds have been recorded, including white-backed vultures, black eagles , fish eagles and other raptors, and the endangered bald ibis.

The park has several large species of game, including elephant, black rhino, white rhino, tsessebe, blue wildebeest, red hartebeest, and klipspringer. Hyena and leopard are the major predators to be found.

ATTRACTIONS & ACTIVITIES AT ITALA GAME RESERVE:
- game drives
- guided walks and hiking trails
- bird watching
- picnic / braai areas

SUMMARY OF WILDLIFE & FLORA:
Herbivores: elephant, white and black rhino, wildebeest, red hartebeest, giraffe, tsessebe
Carnivores: cheetah and leopard
Birdlife: over 300 species of birds

DIRECTIONS TO ITALA GAME RESERVE:
- take the N2 to Pongola
- turn south onto the R66
- after 22 km turn right onto R69
- follow the R69 west for 70 km toward Vryheid
- the reserve is located next to the village of Louwsburg

HOURS:
Gate Times:
Summer (November - February ) 05h00 to 19h00
Winter (March - October ) 06h00 to 18h00
Accommodation Near Itala Game Reserve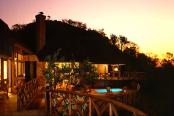 8.1km East of Itala Game Reserve
Ithala Game Reserve offers a fascinating variety of terrain, habitats, mammals, birds and trees.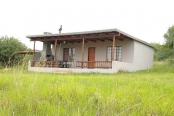 Sleeps: 13 in 2 units/rooms
35.3km South West of Itala Game Reserve
Pivaansbad is a unique hide-away for nature lovers. It offers the winning combination of experiencing day to day farm activities and being one with nature. The farm is situated between Vryheid and Paulpietersburg and borders against the Bivaan River oppos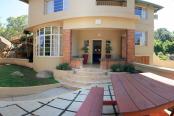 Sleeps: 46 in 9 units/rooms
35.9km South West of Itala Game Reserve
Escape to a rejuvenating oasis at Natal Spa Hot Springs & Leisure Resort, situated on the road between Vryheid and Paulpietersburg on the Battlefields Route.
Sleeps: 174 in 57 units/rooms
36.0km South West of Itala Game Reserve
Facilities in the hotel include an airy dining room and terrace offering lovely views of the garden and pool areas. Buffet breakfasts and dinners as well as a la carte dinners are served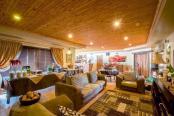 Sleeps: 20 in 9 units/rooms
40.5km North East of Itala Game Reserve
Aber Jetz Guesthouse is situated in the small town Pongola, on the main rout N2. 4 hrs drive from Johannesburg and 3 and a half hrs drive from Durban. An ideal overnight stop for travellers to the Northern Natal coastal areas and Mozambique.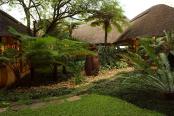 40.5km North East of Itala Game Reserve
Accommodation comprises of 64 upmarket, spacious en-suite bedrooms all individually decorated in a stylish fashion of its own. All rooms are air-conditioned, equipped with a colour TV with DStv-channels and a modern telephone system.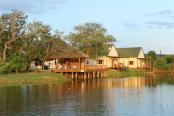 41.2km North East of Itala Game Reserve
DWEBA LAPA consists of 4 self-catering chalets, communal lapa with braai area and swimming pool. The chalets sleep 26 people in total. (6, 6, 6, and 8)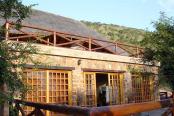 41.3km North East of Itala Game Reserve
Oppie Koppie is the name of the lodge with fully serviced self-catering chalets. This luxury lodge boasts five bedrooms, all ensuite with air-conditioning and excellent views from the koppie upon which it is built.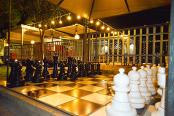 Sleeps: 27 in 14 units/rooms
41.7km North East of Itala Game Reserve
Dive Inn is located in the sub-tropical town of Pongola, which is situated in the heart of the prosperous sugar cane plantations of Northern KwaZulu-Natal, South Africa.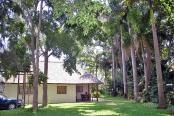 41.8km North East of Itala Game Reserve
Accommodation includes morning tea / coffee and traditional South African rusks. For the outdoor enthusiasts, Pongola Tropical offers braai facilities, where travelers can sit back around a roaring fire and enjoy peace and tranquility
Nearby Points Of Interest